Build, deploy and monitor your computer vision application with Viso Suite.
No-code platform to deliver enterprise-grade AI vision systems 10x faster.
Automate your use case with AI vision
Viso Suite lets you create and scale real-time computer vision and deep learning systems. It includes all the software you need. Use next-gen computer vision tech that Facebook, Google, Tesla and Uber use.
Use pre-built modules to build applications, for any computer vision task and use case.
With every module, choose the AI model you want to use from a drop-down list.
Use the latest, best-performing AI models for deep learning – or import your own.
Solution Brief from Intel
Read how organizations can build computer vision solutions faster with Viso Suite.

Develop with a visual editor, skip writing code
Create and update real-time computer vision applications intuitively, using pre-built modules in a visual editor. Build out logic, wire together multiple cameras and computer vision modules.
The visual editor makes it much faster and easier to create and maintain applications.
Skip manually writing code from scratch and develop without integration hassles.
Use pre-made application templates to learn Viso Suite and start even faster.
Build training data with a powerful annotation editor
Automate data collection from one or multiple cameras. Use integrated image annotation tools to train your own AI models. Manage and version your AI models, and use them in multiple deep learning applications.​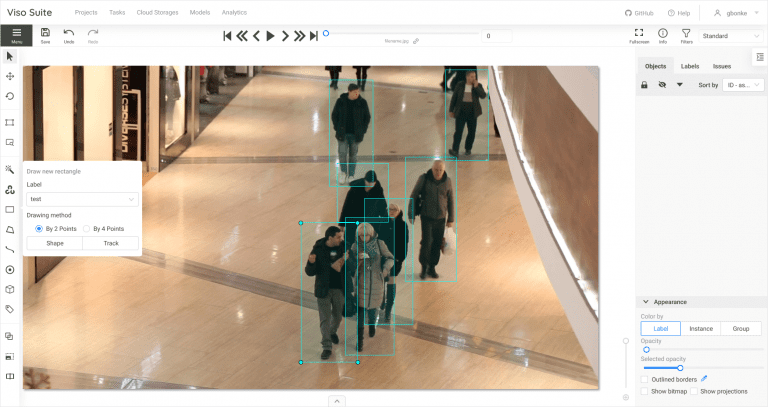 Record video data securely, using the cameras which will be used to run the app.
Powerful data labeling to annotate, version, and manage ground truth data for your AI.
Manage, import, version all AI models in one place, on enterprise-ready infrastructure.
Deploy computer vision apps, release updates safely
Put your computer vision to use in real-world settings. Deploy your real-time applications to computers and process the video feeds of digital cameras in real-time. On-device deep learning enables fast, efficient, offline and privacy preserving AI.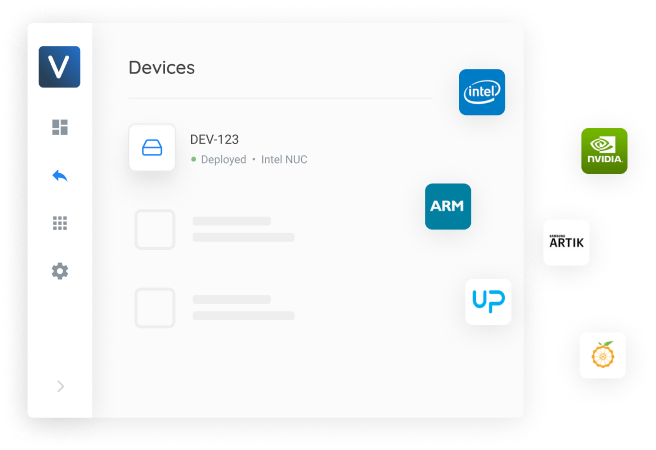 Easily enroll and manage computers. Process with CPU, GPU or AI accelerators. (VPU, TPU).
Use the video stream of any digital surveillance camera or webcam to provide the visual input.
Deploy applications safely to multiple devices. Release new versions at the click of a button.
Monitor application data in real-time dashboards
Viso Suite makes it easy to gather the insights of your deployed applications in the cloud. Visualize and monitor your applications in cloud dashboards with interactive charts and dynamic filters.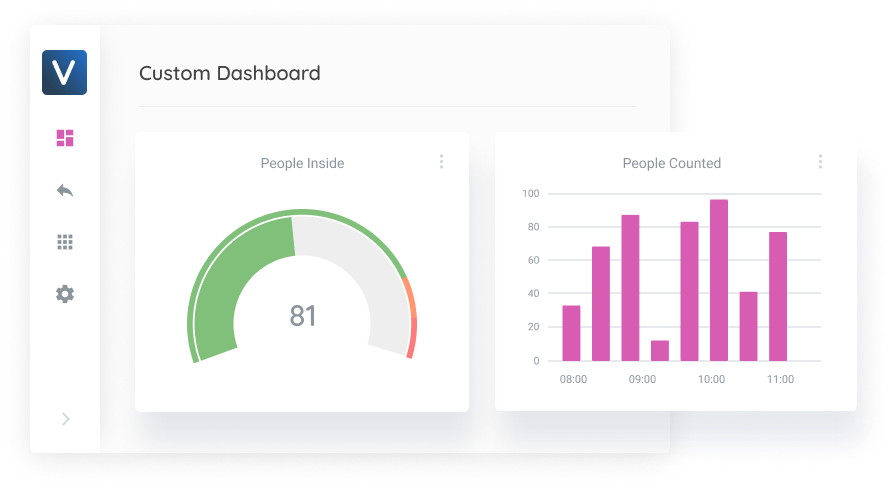 Easily gather and use the data output from deployed applications in the cloud.
Use a no-code dashboard builder to create multiple dashboards to visualize app data.
Design dashboards visually. Use a wide range of pre-built widgets that are easy to customize.
Manage data and access on robust infrastructure
Never worry about integrations, maintenance or infrastructure. Stay secure and private, test changes safely with version control. Scale up from a demo to enterprise grade systems.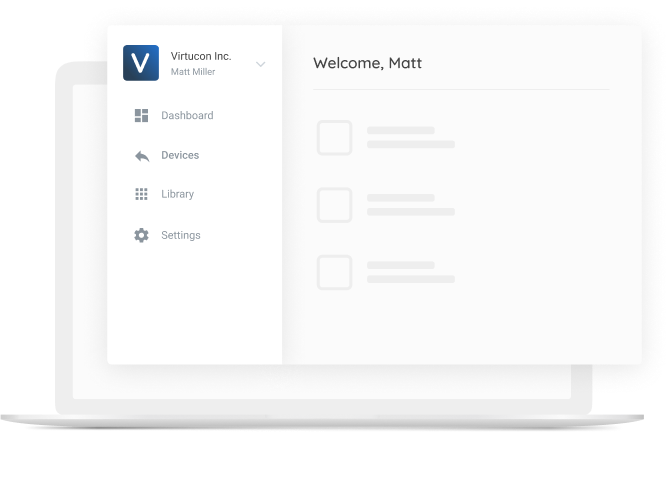 Set up user accounts, manage invitations and collaborate with your team in real-time.
Enterprise-grade access control, manage user  permissions, create custom user roles.
All-in-one platform for Computer Vision
Deliver your real-world Computer Vision applications with industry-leading AI vision algorithms – with one cloud workspace.
Image Annotation tools
Deep Learning AI models
Visual programming
Edge device management
Use any camera or sensor
Deployment manager
IoT communication
Real-time app metrics
Dashboard builder
Collaborative workspace
Identity management
Security and encryption